Review of Amazfit Stratos 3
Product Name: Stratos 3
Product Description: The watch are very cool. They look bigger than bip, and have a more sport style than gts. Not very heavy, it is comfortable for night sleep. Did not manage to test the running or cycling mode, but i know that the previous stratos was very good at it. The battery lasts 5 full days, all calls, sms and weather notifications come instantly. Recommend as an alternative to other more expensive brands
Brand: Amazfit
SKU: 1000
Offer price: 219
Currency: USD
Availability: OnlineOnly
Offer URL: https://s.click.aliexpress.com/e/_svHMPm
Valid until: 2020-02-29
Design

Performance

Battery

Sports Watch Features
Amazfit Stratos
One of the best Xiaomi smartwatches you must get this 2020. 
One of the biggest arrivals in the smartwatch space has been Amazfit. Amazfit is Xiaomi's smartwatch focused brand. In a short span of time, they have grown to become a super powerful brand. In today's review, we cover the Amazfit Stratos.
In this Amazfit Stratos Review, we cover the features and help you decide if this is the product for you or not.
First of all, smartwatches don't come cheap, especially the ones with worthy features. Amazfit has become immensely popular because of its super affordable smartwatches that pack quite a few features.

It's similar with the Amazfit Stratos!
Amazfit Stratos Review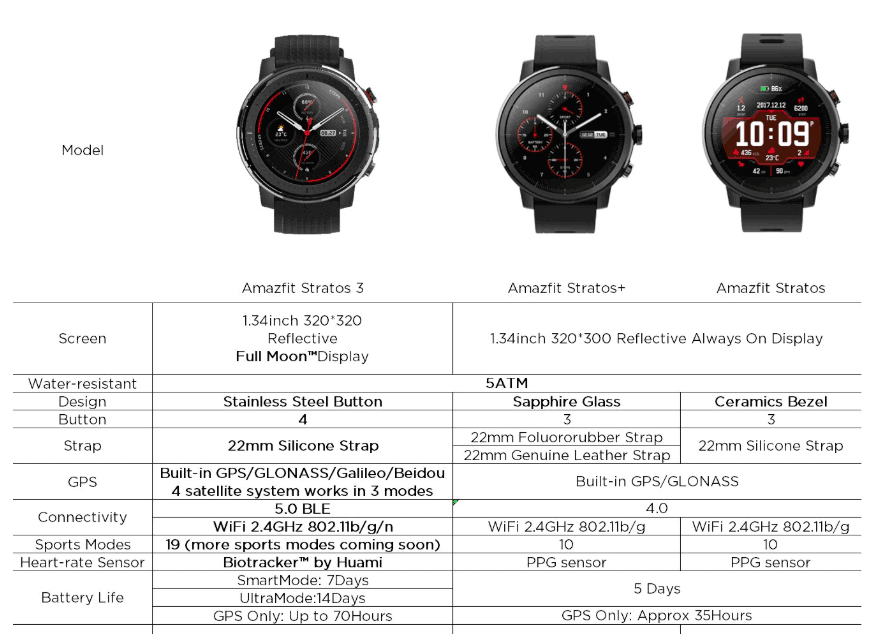 Out of the Box
Out of the box are the watch itself and an extra strap, in case you want to replace your original strap and the charging dock for the watch and instruction sheets.
The Design

First of all the Stratos is a circular smartwatch which is my favourite. At the outset, it doesn't look like a smartwatch, which is personally a look I thoroughly enjoy.

There is a circular Bezel that around the display that is infused with Gorilla Glass. This means it can take quite a few hits, but you need more protection to keep your display safe.

The screen is 1.3-inches big and it's an always-on display and the text is easy to read because of the contrasting colours.

For a lot of people, this is not a smartwatch meant for sports due to its size. This can be a big no-no for some people. If you are looking for other Xiaomi smartwatches, we've covered them here.
The UX

When it comes to smartwatches, a lot has to be packed in a little display and this can get tricky. The Amazfit Stratos' interface is simple, but it takes some getting used to. Once you get the hang of it, it's awesome to use this device.

There is an exercise mode that makes the watch a tracker focused on tracking your workouts. The interface during exercise mode is different.

You don't need a Xiaomi phone to use this smartwatch, you can use it with iOS and other Android devices.
The Sports Watch Capabilities

Ultimately it's a fitness tracker. It might be too big for one, but it does have the features that can compete with the best devices in the world.

First of all there are numerous modes such as "running", "cycling", "elliptical" and more. Depending on your exercise of choice, there is a mode for that. This includes popular sports such as Tennis and adventure sports such as Skiing.

This is perfect for runners who want to keep track of their progress. This has the lap recording tool that tracks each of your laps.

Obviously, this smartwatch can be used underwater because of its 5ATM rating.

The heart rate monitoring tool is also available in this watch, it goes without saying. Some other interesting features that might get coaches excited is the VO2 Max feature that tells you how much oxygen you've consumed.

The lesser oxygen you consume, the fitter you are. This is more than a fitness tracker, this is an athlete's tool.
Battery

The battery life on the Stratos is about 5 days, which is more than sufficient for a smartwatch. This takes out the irritation of charging it every day. If you want to prolong the battery life, then you need to ensure that you use the heart rate monitor and the Bluetooth to a minimum.

If this is used by an older person who wants to track their heart rate at all times, then this becomes a health-focused heart rate tracker than a smartwatch, in which case, it has to be charged every day.
The Best Sports Smartwatch

The Amazfit Stratos might look like just another smartwatch out there in the world. But this is aeons ahead of the competition. If you look at a normal smartwatch, then it's priced the same as a Stratos. But a normal smartwatch does not have the sport tracking capabilities, a heart rate monitor, a notification checker and so on.

When you come to a sports smartwatch, you get all the facilities of the Stratos such as sports mode, long battery life, specific lap tracking, 5ATM and so on. But the difference?

It costs twice the price of the Stratos.
This makes the Amazfit Stratos the most amazing smartwatch out there that is worth every single penny you pay for it.
Pros

One of the best feature smartwatches you will ever find
Fantastic design and look. Looks great for formal and casual wear
Amazing price for the feature set. At least 50% lesser than the competition
Cons
The UX can be improved, especially with the software, which is expected to be better over time.
Frequently Asked Questions about the Xiaomi Amazfit Stratos
Is the Amazfit watch waterproof?

Yesm the Amazfit watch is waterproof. This means you can use it underwater while swimming and it has capabilities of handling up to 5 Atmospheric Pressure.
What is Amazfit?
Amazfit is a sub-brand of Xiaomi that comes under "Huami", which is the wearable brand division of Xiaomi. Amazfit specifically makes smartwatches as of now and make some of the best and most affordable smartwatches in the world.
How do I pair my Amazfit watch?
Pairing is easy. You need to switch on your Bluetooth on your phone and watch and open the Mi-Fit App and choose pair devices to pair your Amazfit watch!
Read also:
Best Xiaomi Wearables and Watches