Xiaomi Smartwatch Store Review
Store Name: Amazfit Store
Store Description: Amazfit is Xiaomi's smartwatch offerings. They make some of the best smartwatches and fitness bands in the planet and they are worth every single penny you pay for it!
Price range: $50 - $300
Amazfit Stratos Pace 2

Amazfit Cor 2

Amazfit Pace

Amazfit Bip Youth
Xiaomi Smartwatches
Which is the best of the lot? We review the latest mi smartwatches!
Xiaomi's phones have been popular for quite some time, but in recent years they have become a force to be reckoned with in one more segment – Smartwatches.
Xiaomi under its own brand name has created numerous smart bands and smartwatches and under the Huami brand, they have created some very popular smartwatches. Xiaomi also has budget smartwatches and premium smartwatches depending on your requirement.
If you are looking for the best Xiaomi smartwatches, you are in the right place!
Xiaomi New Smartwatch
Xiaomi Smartwatch Review 2020
#1 – Amazfit Stratos Pace 2
The Amazfit Stratos / Pace 2 is one of the premium smartwatch offerings from Xiaomi. There has been a new trend in the market, where the smartwatches do not look like the one's Apple made early on. The smartwatches these days look like traditional watches and the same applies to the Stratos / Pace 2 from Xiaomi.
Coming to the design, the Stratos is quite a good looking gadget and it has won the reddot design award in 2018.
The 1.34-inch display is more than sufficient in size and it's an LCD screen that is reinforced with Corning glass.
It has a 512MB RAM and a 4GB internal memory. 2GB is available only for music. The battery life lasts for 5 days and if you run the GPS and heart rate monitor, it has 35 hours of battery life.
This is a watch that is built for casual wear and also as a sports watch. It works underwater and has a 5ATM water resistance.
The battery is 290 mAh Li-ion. Personally, this is one of my favourite smartwatches out there as it's cheaper than Samsung's smartwatch competitor easily by $100.
#2 – Amazfit Pace
The Amazfit Pace is a predecessor to the Pace 2. This one is one of the catchiest smartwatches out there. The watch can store up to 500 songs that you can sync with your bluetooth earpones and go for a run or a jog.
The watch has a built-in GPS module that lets you track your runs and provides data around mileage, altitude, stride frequency and more. If you are one of those people who track their workouts regularly, then this is the smartwatch for you.
The Amazfit Pace mimics the look of a normal watch, with an analogue display. It has a skin-friendly ceramic bezel. The display is always on, so you can see the time at all times without having to press a button.
It has state of the art heart rate monitoring capabilities. It also lets you access your calls and notifications, keeping you updated real-time.
It has 5 days of battery life, that is similar to the Pace 2.
Like similar Amazfit watches, it works on the Amazfit App 2.0
#3 – Amazfit Cor 2
We've seen the Xiaomi Mi Band 3, but did you know there is an Amazfit Cor 2? In terms of the looks, this seems very similar to that of Mi Band 3, but on closer inspection, you'll notice, it's stronger, sturdier and looks better.
The screen is a 1.23-inch color IPS LCD Screen. It has one of the best viewing angles amongst other smart bands. As most bands are, the Amazfit Cor 2 is also the perfect sporting companion. It has a water resistance of 5 ATM. The exercise mode can be used without the help of a phone and works independently.
You can track runs, indoor running, walking, cycling and more. To check your stats, you need to turn your band to face you and you are good to go.
The phone also lets you control your music without accessing your phone. You can perform the basic functions like play, pause etc just with your Amazfit Cor 2.
The 20-day battery life is one of the biggest attractions of this device. It takes 2.5 hours to fully charge the Amazfit Cor 2.
#4 – Mi Band 4
A lot of you might not consider the Mi Band 4 a smartwatch, but it does have smart functions and it is ultimately a watch. If you are looking for a budget smartwatch, then this is what you need to be going for. Here are some of its salient features.
The Mi Band 4 simple display and simple features ensure that that battery lasts for 20 days. The OLED display is bigger than the previous versions that can display SMS and call details. It has a water resistance of up to 50 metres which is pretty great.
It has a heart rate monitor, which when it works all the time, the battery can last for 9 days. This product is perfect for older people who need to track their heart.
You can schedule alarms and also track goals. With the touch screen, one can accept and reject calls directly from the Mi Band 4.
It has over 30 features rolled into this smartwatch. At this rate, it's one of the best smart bands in the market!
Click here to buy on Amazon.com
#5 – Amazfit Bip Youth
Amazfit Bip Youth Edition is different from other Amazfit versions. The first difference is the shape of the watch face. The Bip Youth has a square watch face, whereas the Amazfit Pace has a round watch face.
It has an IP68 rating that lets you use it underwater and use it for sporting purposes. It has the GPS feature that lets you track your runs and follow the location and so on.
What makes this product a super stand out is the 45-day run-time. The screen is a 1.28-inch, 2.5D gorilla glass that has a touch screen.
The colour is black and it's named the obsidian, it's pretty stylish. The battery is around 200 mAh.
Click here to buy from Amazon.com
Related:
#6 – Amazfit GTR
The Amazfit GTR is an upgrade on the Xiaomi Stratos. It's an exclusive edition that is known for a few defining traits. They are
Ceramic Bezel
2.5D Sapphire Watch Crystal
5ATM water resistance
VO2 Max
5-day battery life
Bluetooth Music
Leather Watchband
Looking at these specifications, it's clear that the Stratos 2 is one of the finest smartwatches out there. It not only looks good in a casual setting, but it also has a feature that is loved by sports people. It has 16 sports modes that are Running, Walking, Cycling, Swimming, Triathlon, Compound Exercises, Skiing, Tennis and more.
This ensures that no matter what exercise you do, you can track your performance with the Stratos 2S.
For people who take their numbers seriously, it also provides data around Oxygen Consumption, Training Loads, Recovery Time and more.
If you are concerned about how your watch is going to look, fear not as you can customize your watch face based on your requirement.
It works with the Amazfit Watch App 2.0
Click here to buy from Amazon.com
#7 – Amazfit Verge
The Amazfit Verge is one the most successful smartwatches and is considered the best Xiaomi watch in the market.

It's a sporty looking device that looks cool. It has a 1.3-inch AMOLED screen with different watch faces that can make your watch look sporty as well as classy. 

It's loaded with features where you can easily make calls, answer calls and more. Let me get to that one by one. 

Make no mistake that this watch is a perfect fit for a fitness enthusiast. You have 12 sports modes for activities such as running, cycling, hiking and sport activities such as tennis, football and more. 

When you have a watch that is packed with features, the battery life generally takes a big hit. In this case, it has a 5 day battery life which is brilliant. 

It has 4GB built-in flash memory with 2GB available for users. 

The 390 mAh battery takes 2.5 hours to fully charge that will give you a 5 day battery life. 
Click here to buy from Amazon.com
#8 Mi Band 4
The latest smart band offering from Xiaomi is the Mi Band 4. If you were looking for a smart band that can do it all and that comes within a budget, then look no further than the Mi Band 4. 
One of the most in-demand smart bands, the Mi Band 4 has a full colour display and a heart rate monitor.

It comes in vivacious colours with some unique strap styles. It's waterproof and tracks your swimming activities too. You get a battery life of up to 20 days. The new AMOLED display is 39% brighter than the older versions! 

You can receive notifications directly on the smart band and also control your music through it. 

It tracks various physical activities such as running, cycling. Also it helps you by tracking your sleep, your idleness and more. That too for a ridiculously cheap price! 
#9 Amazfit Stratos 3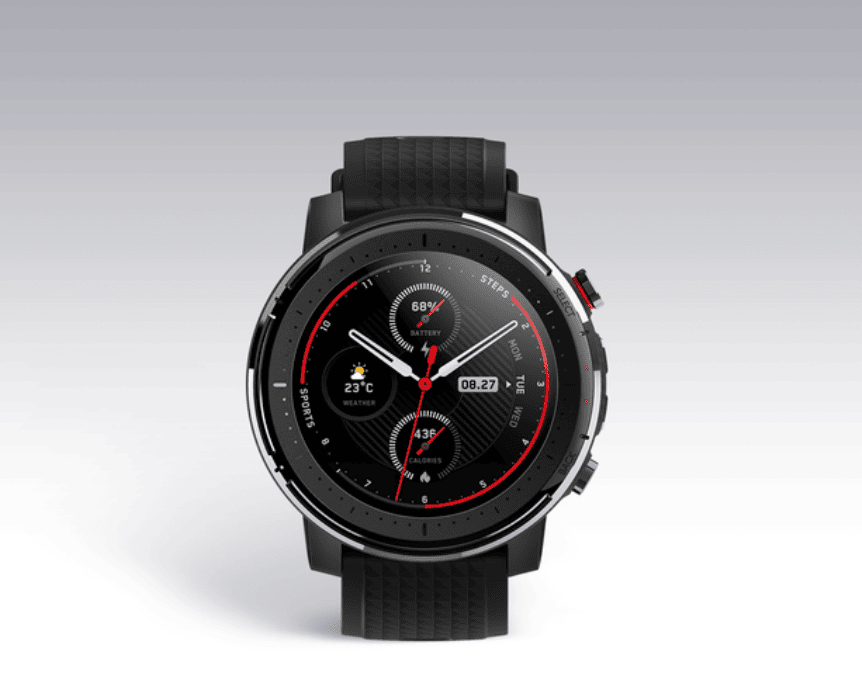 The Amazfit Stratos 3 is another wonder smartwatch from Xiaomi's subsidiary Amazfit. This, in my opinion is one of the best looking smartwatches out there. It has a 1.34-inch display with 14 day ultra endurance mode. You can use the GPS on this watch continuously for 70 hours without any problem.
It has 19 sports modes and can reach the depths of 5ATM(Waterproof). 
You can control your music directly from your watch as you can store music in your watch. The design of the Amazfit Stratos 3 is pretty amazing and it works on iOS and Android devices.
#10 Amazfit GTS
The Amazfit GTS is a budget Apple Watch Alternative from Xiaomi. It has a design like the Apple Watch and it's so much cheaper. It has a 341 PPI AMOLED display. It has an amazing battery life of 14 days and you can swim up to 50 metres underwater. 

The display widgets are editable and you can move things around based on what you want. It comes in six attractive watch colours. You can either have the classic finish or a sporty finish. 

It has 12 sports modes that includes running, treadmill, cycling, walking, indoor cycling, pool swimming, climbing and even weights exercise among others.

The GPS can continuously work for 25 hours. 

It's made of aircraft grade aluminium alloy that is super powerful. The basic watch mode lasts for 46 days. The Amazfit GTS is the best Xiaomi Smartwatch in 2020.
#11 Amazfit Verge Lite
The Amazfit Verge Lite is the younger sibling of the Amazing Verge and cheaper by a bit. It has a 1.3-inch AMOLED screen with a 20 day battery life. You can use the GPS continuously for 40 hours without any hassle. 

Although the sports modes aren't a lot, you can still track outdoor running, treadmill, walking, cycling, elliptical and weight exercise tracking.

This watch isn't waterproof and if you do a lot of swimming, then it might be a deal breaker. It comes in two colours – white and grey. 

You can receive notifications, check the weather, track your heart rate among other features. The battery life on the Verge lite is better than the Amazfit. The only difference between the verge and the verge lite is, the latter does not have a compass, on-board music and a barometer. 
#12 Amazfit Band 2
The Amazfit Band 2 is another underrated smart band from the house of Amazfit. It's not as cheap as a lot of smart bands out there. But it does have features that pack a punch. It has a 1.23-inch colourful display that has big fonts for easy readability. 

It has a flexible wristband that makes it easy for the wearer. It has a 5ATM water resistance, which means you can swim with it up to 50 metres. We did a review of the Amazfit Band 2.

You can control music as well as track other activities such as running, cycling and walking. 

The 20 day battery life will keep you going without any tension! 
Which Amazfit Watch is best?
Amazfit watches have taken the smartwatch world by storm. Amazfit is Xiaomi's own brand and they've made some pretty amazing watches. But like me, there are a lot of people who have had issues with finding the best Amafit watch and here is a simple comparison chart to help you figure out the best Amazfit smartwatch in the market. 

Xiaomi Smartwatch Comparison
Amazfit Verge Vs Amazfit Stratos  
Amazfit's watches are so awesome that it's hard to decide on which is better. So i've created a simple comparison table to help you decide. 
| | | |
| --- | --- | --- |
| Features | Amazfit Verge | Amazfit Stratos |
| Display Size | 1.3-inch AMOLED | 1.34-inch LCD |
| Battery Life | 5 days | 5 days |
| Watch Style | Sporty | Professional |
| Available storage for users | 2GB | 4GB |
| Water Resistance | IP68 | IP67 |
| Battery Capacity | 390 mAh | 290 mAh |
| Colour Options | White, Grey, Blue | Black |
Is Xiaomi Smartwatches Safe?
There are concerns among a few people that smartwatches emit radiation and they are dangerous. I'd like to point out that your microwave emits more radiation than your watch ever will. Having said that, the radiation emitted by a smartwatch like the Mi Band 3 is so little and negligible that it shouldn't even be considered a threat.
Are Amazfit watches good?
Amazfit watches are GREAT. They are a dedicated offering from Xiaomi, focused on the smart fitness band and smart watch category. They have already made a range of products such as the Amazfit Bip, Amazfit Stratos, Amazfit Bip Lite, Amazfit GTS, Amazfit Vege and more. These watches are the best budget smartwatches in the market and worth every penny you pay for it.
Are Amazfit watches waterproof?
Most Amazfit smartwatches are waterproof. They are sports focused smartwatches and that means they can be used at least 50 metres underwater and you can bathe with them and they can be submerged underwater for up to 30 minutes.
Is Amazfit owner by Xiaomi?
Amazfit is owned by Xiaomi's subsidiary, Huami. But most of the decisions in terms of design, style, features are controlled by Xiaomi. It's a dedicated offering from Xiaomi to focus on the smartwatch industry.
Also Read :
Xiaomi International Warranty- What you need to know